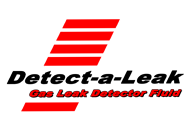 Detect-a-Leak Air/Gas Leak Detector
Instantly finds gas and air pressure leaks with a non-corrosive formula.
Detects leaks in any pressurized air or gas system. Simply spray on and look for bubbles. This non-corrosive formula is safe to use on all surfaces.
Please contact us for pricing, availability and any additional information.
Product safety data can be downloaded here.